Three children and three adults were killed yesterday in a shooting at a Christian school in Nashville. It was the 38th mass shooting this month and 129th mass shooting this year. There have been more mass shootings in the U.S. so far this year than days, and researchers predict 2023 will have the most mass shootings in American history.
The number of mass shootings has risen over the last two decades, but it wasn't always this way. From 1994 to 2004, the number of mass shootings decreased significantly, thanks in large to a Congressional ban on assault rifles.
The ban was initially drafted after a series of mass shootings — a 1989 school shooting in Stockton, Calif., that killed five; a 1991 shooting of 23 people in Killeen, Texas; and a 1993 office massacre in San Francisco — led Congress to introduce and pass a ban on assault rifles in 1994.
The ban sought to increase the restrictions surrounding battlefield guns by expanding the definition of what constitutes an "assault weapon." The ban outlines around a dozen guns such as AR–15s, Uzis, AK–47s and TEC–9s — all of which possess technical and cosmetic features that could make them appear as a replica of a assault gun — including magazines with a capacity over 10 rounds, telescoping or folding stocks, bayonet or grenade brackets, and pistol grips.
However, the ban contained a "sunset clause," which meant it was only enacted for a decade before it was up for another run through Congress. And in 2004, it lost. Congress failed to reenact the law, and the ban was lifted. Since then, as indicated by the red line below, mass shootings have nearly quadrupled.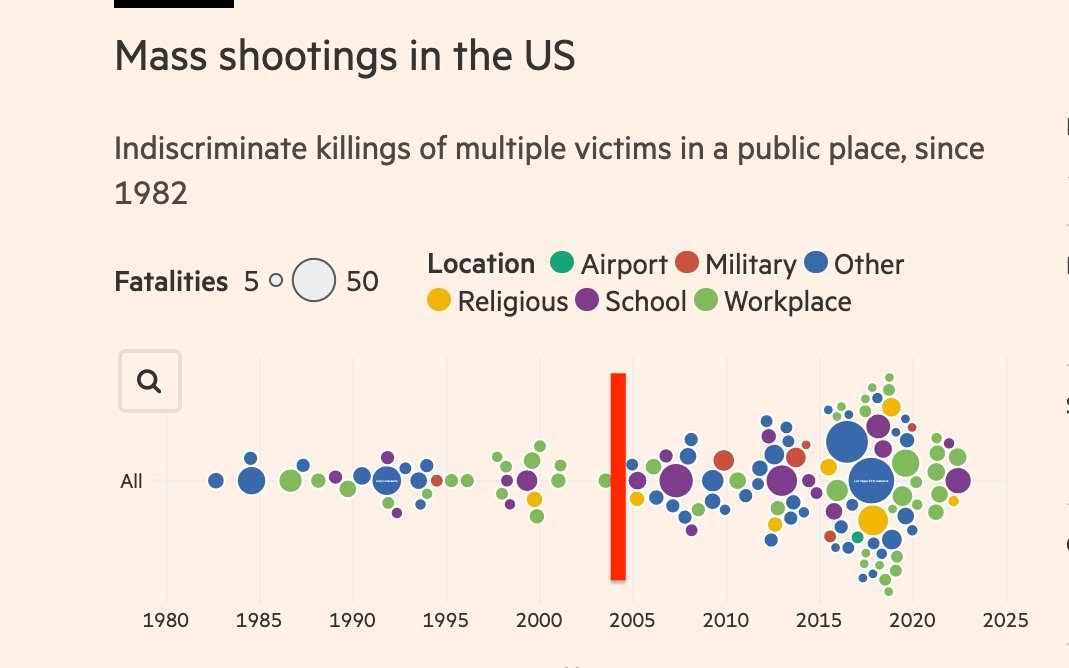 A 2019 study published in the Journal of Trauma and Acute Care Surgery found a 70 percent increase in mass shootings since the 10-year ban, based on an analysis of data from 1971 to 2017. And mass shootings have exponentially increased since 2017.
For the last two decades, Congress has tried and failed to reenact an assault rifle ban. Following yesterday's shooting, President Biden addressed the nation, saying, "It's heartbreaking, a family's worst nightmare. We have to do more to stop gun violence. It's ripping our communities apart, ripping at the very soul of the nation. We have to do more to protect our schools so they aren't turned into prisons.