Serbia's latest weapon in the fight against dirty air is a "liquid tree" — and no, we're not talking about some fancy cocktail.
Belgrade's urban photo-bioreactor is the first of its kind in Serbia, using microalgae to bind carbon dioxide and produce pure oxygen through photosynthesis. The result? Improved air quality and a reduction in greenhouse gas emissions.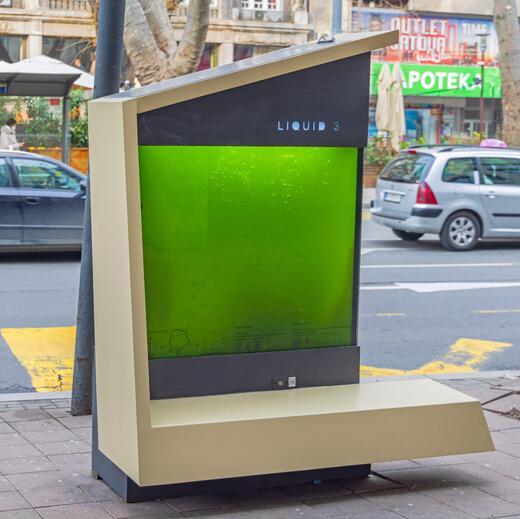 According to Dr. Ivan Spasojevic, one of the masterminds behind the project from the Institute for Multidisciplinary Research at the University of Belgrade, "The microalgae replaces two, 10-year-old trees or 200 square meters of lawn."
Of course, this isn't just some feel-good project aimed at making the city look greener (although it certainly doesn't hurt). Belgrade is the fourth most polluted city in Serbia, thanks in no small part to the two coal power plants nearby that are among the top 10 dirtiest plants in Europe.
However, even though these are technically good for the environment, maybe we should just plant a couple of trees instead of build a "a bus stop filled with goo."
Why would you want a tree (home to birds and squirrels, rustles in the breeze, changes colors with the seasons, a subtle reminder that life ebbs and flows and grows and was here before us and will outlast us all) when you could have A Bus Stop Filled With Goo https://t.co/aFNVHEOAGG

— Rodger Sherman (@rodger) March 29, 2023
Sewage? https://t.co/riVHi2J0zI

— Fred Simon (@FredSimonTLM) March 30, 2023
Wake up, new man made horror beyond your comprehension just dropped! https://t.co/BTgwaBEh0q

— Swig 🇺🇸 (@OldRowSwig) March 30, 2023
big day for people that wanted trees to be replaced by green slime in a glass tank (no one) https://t.co/LOoiQtOUbw

— Hurt CoPain (@SaeedDiCaprio) March 30, 2023
Still, it's good to know people are working on solutions for areas where planting trees just isn't feasible, even if it does look like a box of sewage.