Eight Filipinos were nailed to crosses to reenact Jesus Christ's suffering in the farming village of San Pedro Cutud in the Philippines this morning. Despite being rejected by the Catholic church, the gory Good Friday tradition draws thousands of devotees and tourists each year.
Each year, villagers participate in a complete reenactment of Christ's crucifixion. Volunteers wear thorny crowns of twigs, carry heavy wooden crosses on their backs for more than half a mile through the streets and up a hill. Other villagers dressed as Roman centurions then hammer 4-inch stainless steel nails through participants palms and feet before hanging them on the cross for about 10 minutes.
The real-life crucifixions resumed after a three-year pause due to the coronavirus pandemic. And while a dozen villagers registered, only eight men participated, including 62-year-old sign painter Ruben Enaje, who has participated in this tradition 34 times.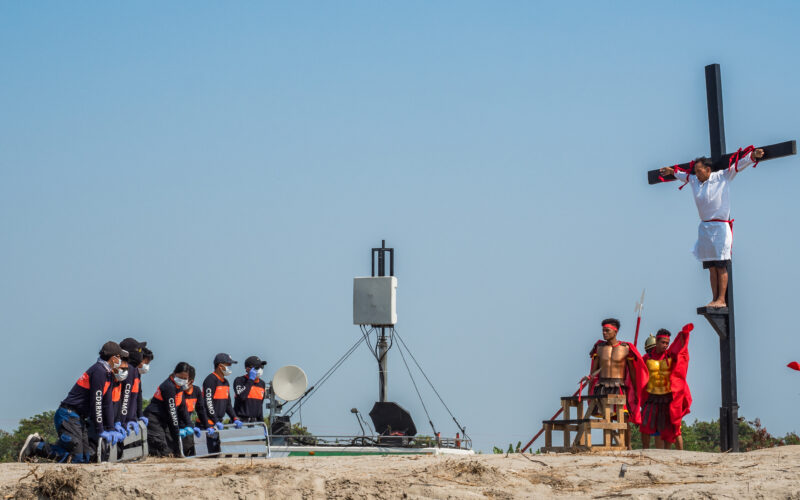 Enaje stated in a news conference shortly after his brief crucifixion that he prayed for the eradication of the COVID-19 virus and the end of Russia's invasion of Ukraine, which has contributed to gas and food prices soaring worldwide.
While the pain from the nailing was not as intense as anticipated, he said he always felt edgy before each crucifixion.
"To be honest, I always feel nervous because I could end up dead on the cross," he told The Associated Press before Friday's crucifixion. "When I'm laid down on the cross, my body begins to feel cold. When my hands are tied, I just close my eyes and tell myself, 'I can do this. I can do this.'"
Church leaders in the Philippines have frowned on the crucifixions and self-flagellations, saying Filipinos can show their deep faith and religious devotion without hurting themselves and by doing charity work instead, such as donating blood.
Robert Reyes, a prominent Catholic priest and human rights activist in the country, said the bloody rites reflect the church's failure to fully educate many Filipinos on Christian tenets, leaving them on their own to explore personal ways of seeking divine help for all sorts of maladies.
"The question is, where were we church people when they started doing this?" Reyes asked, saying the clergy should immerse itself in communities more and converse regularly with villagers. "If we judge them, we'll just alienate them."
Each year, more than 15,000 foreign and Filipino tourists and devotees gather to witness the crucifixions in Cutud and two other nearby villages.
"They like this because there is really nothing like this on earth," said Johnson Gareth, a British tour organizer who brought 15 tourists from eight countries, to witness the crucifixions. "It's less gruesome than people think. They think it's going to be very macabre or very disgusting, but it's not. It's done in a very respectful way."
Despite criticism from the Catholic church, the crucifixion tradition continues to draw crowds and participants year after year.